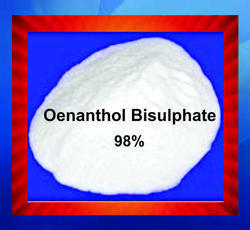 Oenanthol Bisulphate 98%
Product Description
Oenanthol Bisulphate 98% is systemic wide spectrum anti fungal product . When sprayed on plants it retards fungal spore germination as well as mycelium multiplication. It is highly effective against Powdery Mildew, Downey Mildew, Blast, Blister Blight In Tea, Anthracnose, Gummosis, loose Smut, Black Smut, Dampning Off , Fruits Rot, Root Rot etc.. Oenanthol Bisulphate 98% also enhance plant's natural defense system and can be used as prophylactic input.
Crops : Cotton, Chilli, Paddy, Citrus, Vegetables, Grapes, Pomegranate, Sugarcane, Tea, Orchards, Floriculture, other field crops
and Horticulture Crops etc..
Dosage : For Spraying In Different Crops Use 6gm powder in 16 liter of water followed by one additional spray at 15 days interval.
High qualityEffectiveSafe and reliable
Formulation : Oenanthol Bisulphate 98% (oenanthic + L. oleum oil obtained by the distillation of castor oil)
Specifications : (Oenanthol Bisulphate) is antiviral and antifungal in action (Oenanthol Bisulphate) exhibits strong fungicidal activity by inhibiting spore germination. (Oenanthol Bisulphate) control all virus and acts as preventive and curative.
Product Details
| | |
| --- | --- |
| Minimum Order Quantity | 100 Unit |
| Form | Wettable Powder |
| Packaging Type | Bag |
| Packaging Size | 25 KG |
| Types | Curative,Preventive |
Trade Information
Yes

Free samples are available
An ISO 9001:2015 Certified Company /Organic Certified Products