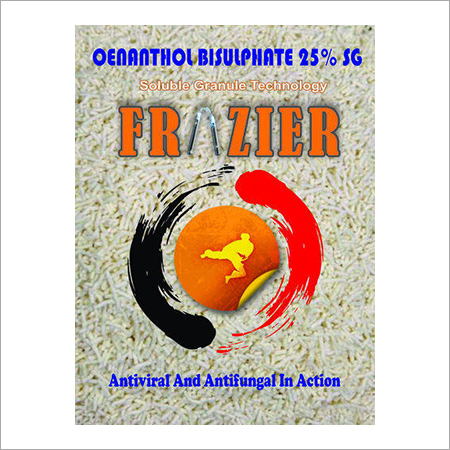 Oenanthol Bisulphate 25% SG
Product Description
Our Company is engaged in manufacturing and supplying a Oenanthol Bisulphate 25% SG (FRAZIER) in Waghodia, Vadodara, Gujarat, India. We have screened a product based on castor derivatives. It is systemic wide spectrum anti fungal product . When sprayed on plants it retards fungal spore germination as well as mycelium multiplication. It is highly effective against Powdery Mildew, Downey Mildew, Blast, Blister Blight In Tea, Anthracnose, Gummosis, loose Smut, Black Smut, Dampning Off , Fruits Rot, Root Rot etc. It also enhance plant's natural defense system can be used as prophylactic input.

Crops : Cotton, Chilli, Paddy, Citrus, Vegetables, Grapes, Pomegranate, Sugarcane, Tea, Orchards, Floriculture, other field crops
and Horticulture Crops etc..

Dosage : For Spraying In Different Crops Use 1 to 1.5 gm Soluble Granules 1 liter of water followed by one additional spray at 15 days interval. For Seed treatment 50 gms of Soluble Granules to be mixed in 2 to 3 liters of water for soaking 1 kg of seeds keep it 2 to 3 hrs, dry for some time sowing.


Oenanthol Bisulphate 25% SG (FRAZIER) Details:
1) Minimum Order Quantity : 100 Kilogram
2) Source : Plant Based
3) Types : Systemic
4) Form : Granular
5) Packaging Size : 25kg


Physio Chemical Properties:
1) Appearance : A White Soluble Granules
2) Solubility : Highly Soluble In Water
3) Odour : Slight Sulphur Type Odour
4) Corrosive Action : Non Corrosive having 6 To 6.5 pH.
5) Flammability : Non Flammable
6) Stability : Can Be Stored for 3 years in dry properly ventilated storage premises.
7) Compatibility : Compatible with all common agricultural pesticides.

Trade Information
Yes

Free samples are available